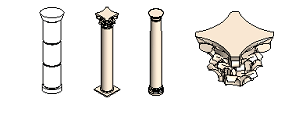 The column is a basic architectural and structural element. A Revit column family is different from others by having a top and bottom binding to the levels of the model. When the level arrangements are changes (for example the height of the floor is changed) columns are automatically prolonged or shortened, and the specifications of volumes are recalculated accordingly.
Columns are one of the simplest elements to create as a Revit family. In fact. the majority of video tutorials on family creation begin from the creating a column family.
In this article, you can download several samples of Revit column families. All families are free and have been checked for functionality. 
Other families available on our website:
1 

Column

Chamfered


 


2 

Column Doric

Order


 


3 

Column

w Pedestal


 


4

Capital CorinthiumOrder
 


5 

Body Column

Corinthium Order


 


6 

Column

Corinthium Order


 


7 

Corinthium Order
 


8 

Column DoricOrder
 


9

 

Pedestal Column

Doric Order
 


10

 

Column

(1)


 


11

 

Column

L – Shaped


 


12

 

Column

Rectangular


 


13

 

Column

Round


 


14

 

Column

Square


 


15

 

Column

T Shaped


 


16

 

Column

X Shaped


 


17

 

Column

Chamfered


 


18

 

Column

 


19

 

Column

Rectangular


 


20

 

Column

Round


 


21

 

Column

Timber


 


22

 

Column

Clad


 


23

   Buttress
 


24

 Pier
 


25

   ColumnRectangular Timber
 


26

 

Column

Rectangular


 


27

  Column
 


28

 

Column

Tuscan Order