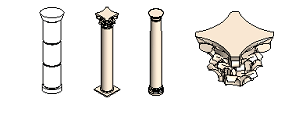 The column is a basic element. Column, as a Revit family is different from others by having a top and bottom binding to the levels of the model. When changing the level arrangement (for example the height of the floor is changed) the columns are automatically prolonged or shortened, and the specifications of volume recounted.
The column is one of the simplest elements as an object of creating families. The majority of video tutorials on family creation begin just from the creation of a column.
In this article, you can download several examples of the column family of Revit. All the families are free and checked for operability.
Other families on our site:
| | | | |
| --- | --- | --- | --- |
| 1 ColumnChamfered | 2 Column DoricOrder | 3 Columnw Pedestal | 4 Capital CorinthiumOrder |
| 5 Body Column Corinthium Order | 6 ColumnCorinthium Order | 7 Corinthium Order | 8 Column DoricOrder |
| 9 Pedestal ColumnDoric Order | 10 Column(1) | 11 ColumnL – Shaped | 12 ColumnRectangular |
| 13 ColumnRound | 14 ColumnSquare | 15 ColumnT Shaped | 16 ColumnX Shaped |
| 17 ColumnChamfered | 18 Column | 19 ColumnRectangular | 20 ColumnRound |
| 21 ColumnTimber | 22 ColumnClad | 23 Buttress | 24 Pier |
| 25 ColumnRectangular Timber | 26 ColumnRectangular | 27 Column | 28 ColumnTuscan Order |