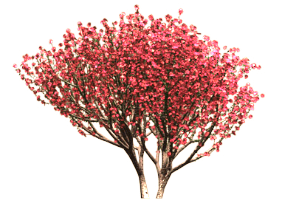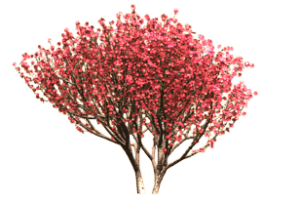 Green spaces attract the eyes of spectators – it is naturally human to love green décor. As to offer more choice in these families, Revit has produced over 300+ Plant families for your design projects.
It is true that just a minority of designers are reputed to use Revit plants, partially due to the fact that some designers and architects do not use Revit for visualization and rendering purposes. However, since we attempt to diversify our collection of families, we released Plant families for a free download – just click the link below and you'll receive the whole family in one piece.
In this section you will find the following types of plants:
Revit indoor plant families
Revit 3D plant families
Revit pot plant families
Revit trees
Revit planter
Potted plants
Revit flowers
Revit bushes
Revit shrubs
Realistic trees
We also offer Revit landscape families, check it out below!
In addition, you will also find vase and decoration families here. It is all stored below and available for a quick download!
In case of questions or queries, please submit them over our contact page. If you have some interesting ideas, we are always there to assist you in your projects!
Update 1:
Revit 3D plant families
| | | | |
| --- | --- | --- | --- |
| 2D Tree Plan parametric Detail Item | 3D 3d tree | 3D Bush | 3D Ceramic planter |
| 3D Flower basket | 3D Flower in vase | 3D Flowers and vase | 3D Hanging Plant |
| 3D Hanging Plant 2 | 3D 2D TRESS 2789 | 3D  tree 2767 | 3D Large Tree |
| 3D Leopard tree | 3D Lily plant | 3D Modern Plant Box | 3D Plant Bonzai |
| 3D Plant Bonzai 2 | 3D Plant Bonzai 3 | 3D Plant Bonzai 4 | 3D Plant Table |
| 3D Planter with shrub | 3D Planting trough | 3D Planting | 3D Planting – Solid and RPC 16077 |
| 3D Planting Graphic – Complex 15925 | 3D Potted Plant | 3D Potted Plant 10 | 3D Potted Plant 11 |
| 3D Potted Plant 12 | 3D Potted plant 2 | 3D Potted Plant 3 | 3D Potted Plant 4 |
| 3D Potted Plant 5 | 3D Potted Plant 6 | 3D Potted Plant 7 | 3D Potted Plant 8 |
| 3D Potted Plant 9 | 3D Round plant pot | 3D Scotch pine tree | 3D Table Decoration |
| 3D Table Decoration 2 | 3D Table Decoration 3 | 3D Table Decoration 4 | 3D Vase (2) |
| 3D Vase | 3D Vertical Garden Wall |   |   |
Revit 2D plant families
| | | | |
| --- | --- | --- | --- |
| 2D Tree – Elevation 1 | 2D Tree – Elevation 10 | 2D Tree – Elevation 11 | 2D Tree – Elevation 12 |
| 2D Tree – Elevation 13 | 2D Tree – Elevation 14 | 2D Tree – Elevation 2 | 2D Tree – Elevation 3 |
| 2D Tree – Elevation 4 | 2D Tree – Elevation 5 | 2D Tree – Elevation 6 | 2D Tree – Elevation 7 |
| 2D Tree – Elevation 8 | 2D Tree – Elevation 9 | 2D Tree – Plan 1 | 2D Tree – Plan 10 |
| 2D Tree – Plan 11 | 2D Tree – Plan 12 | 2D Tree – Plan 13 | 2D Tree – Plan 2 |
| 2D Tree – Plan 3 | 2D Tree – Plan 4 | 2D Tree – Plan 5 | 2D Tree – Plan 6 |
| 2D Tree – Plan 7 | 2D Tree – Plan 8 | 2D Tree – Plan 9 | 2D Tree |
| 2D Tree 2d | 2D Tree elevations | 2D Tree Elevation Parametric Scale with Height | 2D Tree plans |
Other plant families
List of families:
Deciduous – Large – Beech, Deciduous – Large – Oak, Skinny, Deciduous – Large – Oak, Wide, Deciduous – Med – Ash, Deciduous – Med – Birch, Deciduous – Med – Honey Locust, Deciduous – Small – Apple, Deciduous – Small – Blueberry, Deciduous – Small – Cherry, Deciduous – Small – Serviceberry, a_tree35, a_tree49
Evergreen – Fir, Evergreen – Hemlock
Potted_Bamboo, POTTED_PLANT,  Potted_Plant_3D
a_bush12, Grass, kvitnik, palm, Plant, Plant_8135, RPC_Plant_-_Tropical, RPC_Tree_-_Fall, Shrub, Sitka_Spruce, yucca
Other Revit Families