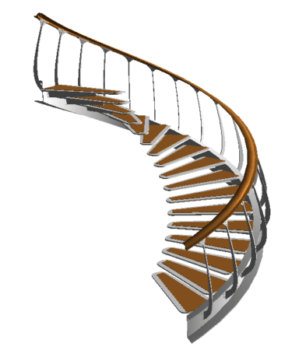 We pride ourselves on the quality of stairs we offer here. It has been voted number one among other families. The ladder families are available for a quick and free download at the bottom of this page, so scroll down to check it out!
Stairs make room for realization of your fantastic ideas in terms of interior design and make it possible to experiment with colours and different railings. It is your chance to brighten up your model and make it work the way you want.
In this section we are offering these types of stair families:
Metal pan stair
Brick/concrete stair
Concrete stair
Residential – closed 2 slides
Residential – Open 2 Sides
Residential – Left Open
Residential – Right Open
Residential – Open
Residential – Open Riser
Residential – Open Riser – Middle Stringer
Residential – Spiral w Stringer
Residential – Spiral
Since we are constantly updating our offers and services, we decided to upload more on the railings section of this website, so you might want to take a look at that page, too!
In case of queries or questions, please submit your message via our contact page. If you have any interesting ideas, you can always reach out and help us grow our project!
Update 1:
Revit stair families
Author: Yusuf Mavuş
| | | |
| --- | --- | --- |
| Angle Support | Angle Support1 | Angle Support2 |
| BBG Stair 1 | BBG Stair 2 | BBG Stair 3 |
| Custom Stair 1 | Custom Stairs 2 | Dallas Stair |
| DC Stair 2 | DC Stair 3 | DC Stair 4 а |
| DC Stair 5 a | DC Stair 5 | DC Stair 6 |
| BBG Stair 4 | DC Stair 1 | DC Stair 4 |
| Apple Stair NYC | Half Log Stairs | Henry Stair 2 |
| Henry Stair | Henry Step 2 | KPF Stairs |
| Lighthouse 2 | Livers Bronze-090310-Ver1-Fontana Project | Nic Stair |
| Nosing Stair 1 | Special Tread | Syracuse Stair |
| WD Stair | Yin Yang Stair |   |
Revit simple stairs families
Revit stairs families download
Other Revit Families