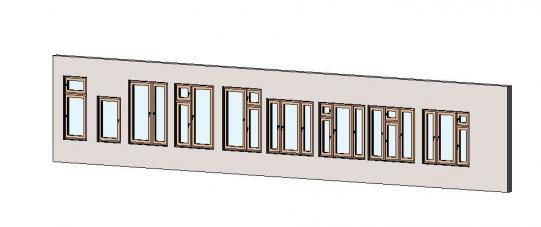 Windows are basic Revit components that are especially popular among contractors, designers and architects as they are required for the majority of all building projects.
Unless we are talking about the most basic windows, in the majority of cases it is easier and faster to modify and adjust a window to make it to your need and looks, instead of modelling and programming a window from scratch.
Below you will find window families in various designs, sizes and shapes. All of our window families are fully functional and can be adjusted to fit the needs of your project.
Arched windows
Rectangular windows
Triangular windows
Composite windows
Round windows
Window openings
Roof windows
Update 1:
Revit window families set 2: round, arched, triangular and angular windows

Other families on our site:
| | | | |
| --- | --- | --- | --- |
| 1 Arched window (1) | 2 Arched window (2) | 3 Arched window (Openable) | 4 Arched window with Trim |
| 5 rectangular window(1) | 6 rectangular window(2) | 7 rectangular window(3) | 8 rectangular window(4) |
| 9 rectangular window(5) | 10 rectangular window(6) | 11 Window with Trim | 12 Window объемное |
| 13 Window rectangular (1) | 14 Window rectangular (3) | 15 Window rectangular (2) | 16 Window |
| 17 Window Triangular | 18 Window 1 Casement | 19 Window 1 Casement | 20 Window 2 Casement |
| 21 Window 2 Casement | 22 Window 3х3 with Trim | 23 Window 2 Casement with Trim | 24 Window with Trim |
| 25 Arched window | 26 Composite window | 27 Composite window | 28 Sash |
| 29 Corner window | 30 Curtain Wall Awning | 31 Ellipse with Trim | 32 Window 1 Casement |
| 33 Window 1 Casement | 34 Window | 35 Fixed with Trim | 36 Fixed |
| 37 Arched Grill | 38 Rectangular Grill | 39 Hopper with Trim | 40 Window Horizontal Casement |
| 41 Instance | 42 Instance | 43 Louvers with Trim | 44 Louvre |
| 45 Opening with Trim | 46 Opening | 47 Oriel | 48 window |
| 49 Window Roof | 50 Window Roof (2) | 51 Window Roof (3) | 52 Window Round |
| | | | |
| --- | --- | --- | --- |
| 53 Window Round with Trim | 54 Window Round | 55 Sash | 56 Sash (2) |
| 57 Sash (3) | 58 Sash (4) | 59 Sash (5) | 60 Sash (6) |
| 61 Sash (7) | 62 Window rectangular | 63 Window rectangular | 64 Skydome – Interior |
| 65 Skydome – Roof | 66 window Roof | 67 Window rectangular | 68 Window rectangular |
| 69 Window rectangular | 70 Window rectangular | 71 Window rectangular | 72 Window rectangular |
| 73 Window rectangular | 74 Window rectangular | 75 Window rectangular | 76 Window rectangular |
| 77 Window rectangular | 78 Window rectangular | 79 Window rectangular | 80 Window rectangular |
| 81 window Rolladen | 82 Jalousieи | 83 Rolladen | 84 Window rectangular |
| 85 Window rectangular | 86 Window rectangular | 87 Window rectangular | 88 Window rectangular |
| 89 Window rectangular | 90 Window rectangular | 91 Arched window | 92 Window rectangular |
| 93 Window rectangular | 94 Window rectangular | 95 Window rectangular | 96 Window rectangular |
| 97 Window rectangular | 98 Withm Lichtschacht | 99 Wmit Lichtschacht | 100 Window rectangular |
| | | | |
| --- | --- | --- | --- |
| 101 Window rectangular Anschlag | 102 Window rectangular Anschlag | 103 Window rectangular Anschlag | 104 Window rectangular |
| 105 Window rectangular | 106 Window rectangular Vent | 107 Window rectangular | 108 Window rectangular |
| 109 Window rectangular | 110 Window rectangular | 111 Window rectangular | 112 Window rectangular |
| 113 Window rectangular | 114 Window rectangular | 115 Window rectangular | 116 Window rectangular |
| 117 Window rectangular | 118 Window rectangular | 119 Window rectangular | 120 Window rectangular |
| 121 Window rectangular | 122 Window rectangular | 123 Window rectangular | 124 Window rectangular |
| 125 Window rectangular with Openable Glass | 126 Window rectangular | 127 Window rectangular | 128 Window rectangular |
| 129 Window rectangular Rolladen | 130 Window rectangular Jalousie | 131 Window rectangular | |
| 133 Window rectangular | 134 Window rectangular | | 136 Window rectangular |
| 137 Window rectangular | 138 Window rectangular | 139 Window rectangular | 140 Window rectangular |
| 141 Window rectangular | 142 Window rectangular | 143 Window rectangular | 144 Window rectangular |
| 145 Window rectangular | 146 Window rectangular | 147 Window rectangular | 148 Window rectangular |
| 149 Window rectangular | 150 Window rectangular | 151 Window rectangular | 152 Window rectangular |
| 153 Window rectangular | 154 Window rectangular | | |