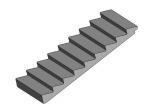 The stair families can be divided into 3 types:
The first type is the family of prefabricated reinforced concrete staircases of multi-story buildings.
For those staircases there is a minimum of elements required:
Landing platform
Flight of stairs
The second type is the private houses staircases families, as a rule in only 1 floor. These stairs have more elements and are much more diverse, in the materials, as well as in the shapes. (It is planned to add families of this type in the near future)
The third type is the metallic stairs families. This type consists of simple elements, such as Corner, Channel, etc. All the simple families you can download on our website in other sections and collect a staircase of any configuration. In this section, it is possible to download different families of metallic staircases of foreign Revitters. You can apply them when using serial products, where only counting of finished structures is required. For the compilation of the specifications of metal rolling by the Russian standards, additional customization of the families is required.
Also, in this section, you can download Revit elevator and escalator families.
Other families on our site:
Revit metallic stairs, elevator and escalator families.
| | | | |
| --- | --- | --- | --- |
| 33 Lift | 34 Lift | 35 Lift Electric | 36 Lift Hydraulic |
| 37 3D Lift | 38 Escalator (1) | 39 Escalator (2) | 40 Lift Assembly |
| 41 Lift Glass | 42 Lift Massive | 32 Escalator | 188 Alternating Tread Device (AUS) |
| | | | |
| --- | --- | --- | --- |
| 189 Cage Ladder (AUS) | 190 Ladder (eng) | 191 Alternating Tread Device | 192 Cage Ladder |
| 193 Ladder (eng) | 200 Roof Ladder (eng) | 195 M_Cage Ladder | 196 M_Ladder |