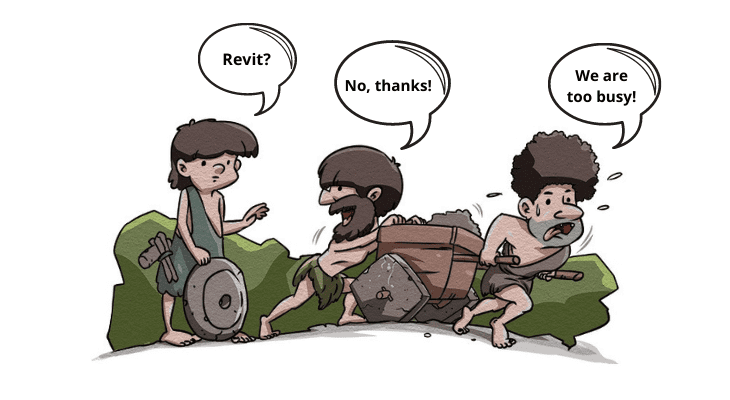 Revit or AutoCAD? In most cases, people who are thinking of switching to new software ask this question. As an architect, I would like to share my experience of working on both platforms. So, after my graduation I worked for AutoCAD for 5 years. Afterwards, Autodesk Revit became more significant at my work and I started to cut my teeth on the platform. As time went on, I gained more experience and finally began to teach the basics of BIM drafting to other employees. As of today, I have 6 years of vital experience working with Revit.
Сontent:
Revit vs AutoCAD
Pros and Cons Of Working On These Two Software Packages
---
3D Model

Autodesk Revit allows you to see the volume of an object at the click of a button.
In 99% of cases only 2D view is available for regular AutoCAD users. An architect/interior designer is mostly thinking in terms of surfaces, not volumes. Sometimes it is not that straightforward to imagine the volume of an object in your head or create a model of an object in order to calculate its volume. I bet you had a couple of cases when the volume had to be altered because your final layout or a cottage front elevation plan simply didn't look right after you completed your visualization process.
Revit vs AutoCAD (1-0)
There are no technical errors on Revit platform
---
The Complexity Of Studies

Revit is quite a complicated platform and requires a different type of approach. It takes much longer to learn how Revit works.
AutoCAD is easier to grasp the gist of. However, if your job is mostly connected with working with 2D models (furniture arrangement, remodelling schemes), you probably shouldn't waste your time on Revit. You can use the same tools on AutoCAD.
Revit vs AutoCAD (1-1)
AutoCAD is easier
---
Making Modifications

Revit is perfect in terms of modifications. By moving one object (a window or a wall, for example), necessary recalculations are made automatically. The final specifics are modified and provided to you. The modifications that could take hours to achieve on AutoCAD would take just seconds on Revit.

If you wish to make some corrections in your project, you will most certainly need to conduct the same operations in every draft you have. Due to this lack of connectivity between different functions, your work gets significantly slower and starts to lack in quality. I suppose this approach may sometimes lead to some unpleasant situations on construction sites. In this case the whole building process may be fail due to one error committed by an architect during his/her AutoCAD modelling session. One could easily forget to make necessary corrections in other drafts, right?

Revit vs AutoCAD (2-1)
Revit is far better in terms of modifications
---
Complex And Arbitrary Forms

Revit works with objects and solid components, which is why it may be a challenge to create a complex form, such as an ancient building model. Revit offers the fullest functional apparatus from AutoCAD, although it may be less convenient to create 2D models since AutoCAD is mostly used for these purposes.

AutoCAD is the greatest software package for creating 2D models, schemes, etc. The program gives you much freedom in your project management. Moreover, AutoCAD offers various methods that you can apply in your projects to manipulate your geometrical figures and create your drafts with precision. In case you need a tool for creating arbitrary forms, AutoCAD is the program you need to download.

Revit vs AutoCAD (2-2)
AutoCAD is easier for arbitrary and complex forms
---
Volume And Area Calculations

Revit is renowned for its ability to provide quick and correct calculations. The specifics and information on materials, facilities or things in general used in the project are always of vital importance to the person in charge of planning. Interior designers use lamps, sockets, switches, ceramic tiles, molded curtain rods and plinths, etc. Architects in their turn would look out for the façade system, bricks, windows, doors and other objects. Every specialist has his/her own goals and this program will definitely be there to help you out.

AutoCAD is really bad at it. Once I tried reprogramming some settings and add-ons at LISP so that it was possible to calculate a bit easier and in a timely manner. However, those were quite complicated methods I found and used in my projects. Revit is designed to do it all for you, providing high level of quality and precision. Although, the whole process becomes simpler when you have learned most of the specifics and parameters on Revit.

Revit vs AutoCAD (3-2)
BIM modelling excels at providing fast and correct volume and area calculations
---
Collision Detection
Revit is able to perform collision detection function quite well, but I should probably point out that it is not the best software. But you can always check for any collisions visually in 3D format.

If you work on AutoCAD, it is practically impossible to detect any collisions during your development or examination process.

(4-3)
It is difficult to choose the winner in this case. We have a tie here.
---
Data Sharing

Revit is not an ideal tool. Big companies have special employees (BIM-coordinators) who share data among various departments. This platform is able to perform this function, and given the data sharing is set in the right way, you could have the same level of user experience.

At one point in time every project designer has to hand over his/her drafts to other specialists (3D visualization specialists or project designers). This is exactly the point where the nightmare begins: DWG files can be exported in a fairly good quality, but their adjustment features change as a result.
Now every participant of any project has its own file and a set of different drafts of its own. So, projects designers, who adhere to this approach to work, cause much chaos. However, that is the way most project designers work and they are accustomed to this kind of arrangement. They believe that is the best way to manage their projects, which is something I cannot agree with.

(5-3)
Revit has necessary tools for data sharing
---
Element Dependence

Once again, Revit cannot possibly meet all the challenges posed by its users. But the platform is rapidly developing, and some simple tasks like compound walling (with different layers), door and window openings, reinforcement works in concrete component, structural connection (air and water tubes) are easily accessible to all users. By moving or deleting objects, other connected objects will reassemble and the program will provide new parameters.

AutoCAD has been designed for operating with lines. The system doesn't have any categories of objects you attempt to create: is it a brick wall or gypsum plasterboard? The program only categorizes it as a line, which you can call "drywall". Therefore, you do not have any element dependence here. When you move a "brick wall", your thermal insulation remains in the same place, which is why you have to repeat the same steps previously completed.

(6-3)
Revit has element dependence
---
Construction Errors

Revit makes no mistakes; it is a machine after all. If a wall is placed on a certain spot, it is going to stay there. It is not going to move if you are working with particular sections or front elevation.

All of us have made these mistakes: you moved a wall in your plan, but never made relevant changes in a sectional view. You changed the width of a window on your front elevation, but never corrected it in a plan. This is an error committed by human factors. There is no hiding from that.

Revit vs AutoCAD (7-3)
---
Why do you need AutoCAD and Revit?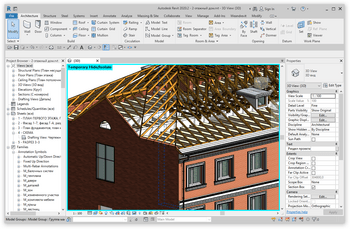 Revit is a powerful software package capable of creating 3D-models for projects containing physical aspects of designated elements and the specifics of their mutual interaction with other components of a particular building. It is mostly based on something familiar, such as building information modelling or BIM.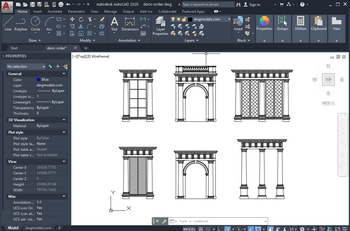 AutoCAD is used mainly for digital 2D modelling. We usually use it in order to create each object separately. At first, we work on our plan, then we move on to façade and then we finish things off with sectional view modifications. The whole process gives you some sort of freedom because your diagrams are not connected in any way.
---
AutoCAD vs Revit. Prices/License
Revit is more expensive than AutoCAD and the cost of yearly subscription amounts to £2796 for one license.
You can also choose a monthly package, which costs £348 per month. As an option, you could also buy a three-year license for £7548.
AutoCAD costs £1890 for a yearly subscription for user license.
Alternatively, you can purchase a monthly package for £234 and get a license for three years, which costs £5106 overall.
Both of these programs offer 30-day free trial versions as well as various subscription packages (subscription for a month, year or for three years). 
If you are a student, you can get access for free. However, commercial and professional companies will need to pay a license fee.
---
Why is it difficult to switch to Revit?
Revit requires different type of thinking: you stop thinking in terms of lines and start to think in terms of objects. By taking a certain action, you begin to realize the impact it makes on the whole
model. Revit doesn't allow for a narrow-minded type of approach in the framework of one scheme or a draft. You have to imagine the whole object in your head.
You should remember that 90% of all the difficulties you have stem from the inaccurate use of the program itself. However, the other 10% may be Revit's fault. You have to understand what Revit simply cannot do and avoid it in your projects.
Should I switched to Revit from AutoCAD?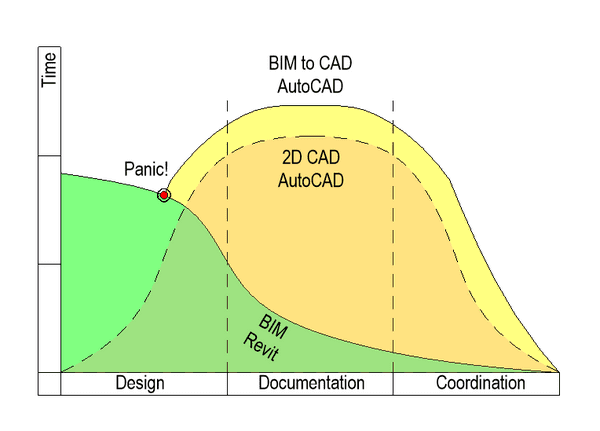 Yes, you should. But that is going to be a challenge. It is going to be easier for students who have not yet gained enough experience, knowledge and have not yet developed their work habits. Changing a platform might be really hard for people who have been in this business for a long time. They may find it easier to repeat the same steps they completed 1000 times before than try something new. However, it is also true that the same thing happened when people moved to AutoCAD from drawing boards. People claimed that it was easier to draw something with your hand rather than try to do the same thing on a computer. Today AutoCAD users will most certainly advocate for computer-based modelling: they won't argue that computers are more convenient than pencils. In the same manner no one will complain about the advantages of 3D modelling and project design in the future.


You can also download our infographic: Revit vs AutoCAD