For more information about this service, please refer to the Home page
Samples Of Measured Surveys
Measured Building Survey
This type of measured survey involves the largest work scale, as it involves the survey of the entire building internally and externally, as it typically includes the basement and all of the technical rooms. Most often, such surveys are conducted when the property owner is going to carry out major repairs or reconstruction of the building. After taking a survey of the buildings, a completely standard set of drawings looks as follows:
Floor plans (attic, basement, extensions). This plans shows all walls with windows and doors, as well as built-in cupboards and fireplaces. The window sill and top level markings are added to this plan. Doors have height markings. All rooms have names, floor and ceiling height markings. All plumbing equipment is shown. The attic plan shows the location of the rafter system (without defining the cross-section of rafters).
Sections. One section always goes through the stairs. The second one is perpendicular in any place.
Elevations. The facade drawings show the walls, windows and doors by internal measurements. The construction of windows and architectural elements are always schematically displayed as well. On the facade roofs and drainage systems are displayed.
Site plan. There are 3 types of site plan:

Fence only – only the boundaries of the fence are shown without height marks.
Plan without levels – displays fences, walls, trees, bushes, flowerbeds, etc. The types of coverings are indicated. The levels of the fences are shown.
Plan with levels – Displays the same as in the previous point including levels of the area, walls, trees.
Apartment Survey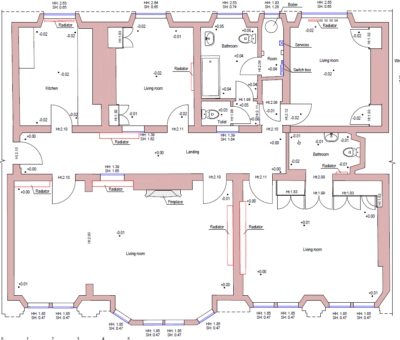 In various situations, it may be necessary to create as-built plans for apartments. The most common need for as-built measured survey in London is when the owner is planning to refurbish the flat. When creating as-built plans, various levels of detail can be obtained, from the dimensions of the supporting structures to the characteristics of the window openings.
Usually the following drawings are included when apartments are surveyed:
Floor plan.
Sections.
Additional services for clients: Ceiling plan, socket plan, Internal facades with sockets, radiators, etc.
Building Elevations Survey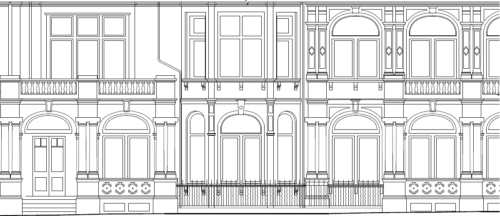 Building elevations are intended to describe the look and characteristics of all the building elements that make up its facade. Walls, windows and doors are shown on the elevations by internal measurements. The construction of windows and architectural elements are displayed conditionally. Also on the elevations roof drainage systems are shown.
If the client wishes, the elevations can be marked, the nearest houses are shown.
The information obtained is subsequently applied when restoring the wall covering.
Samples Of Drawings
---
Look At Our Other Services